Q u a r t e r l y N e w s l e t t e r
S u m m e r 2 0 1 2
In This Issue:
President's Corner

SPR President
David A. Ingrfam, MD

Dear Colleagues,

With this SPR's President's letter, I would like to update you on a number of our society's new activities, which were discussed at our Council meeting held in conjunction with the annual PAS meeting this spring in Boston. Several new initiatives were launched from the work of SPR subcommittees, which are aligned with the SPR's mission of fostering the careers of physician-scientist's at early stages in their careers. Given the ongoing challenges facing pediatric research, we hope that these initiatives can provide more support to pediatric physician-scientists in various pediatric departments.

First, our Member engagement subcommittee officially launched a new Pediatric Fellow's Membership category for SPR just prior to the 2012 PAS Meeting. Membership in the Fellow's Section is open to all fellows currently enrolled in a pediatric fellowship program accredited by the ACGME or equivalent international accreditation organization. The mission of the Fellow's Section, in collaboration with other SPR subcommittees such as the Mentoring Committee, will be to enlist and aid fellows in understanding the role of the SPR in academic pediatrics, to develop the skills for scholarship, and to navigate the transition from fellowship to faculty in departments of pediatrics. Through this process, we hope that fellows will desire to become life-long active SPR members, who will participate in and support scholarship throughout their careers. Additional details including deadlines for application submission can be found on the APS-SPR website.

A second initiative generated by our Mentoring Committee is the newly formed "Young Investigator Coaching Program." The purpose of this program is to connect junior pediatric faculty with nationally and internationally recognized physician-scientists in the appropriate research discipline to provide specific mentoring advice with regards to early stage career advancement. We are excited to report that six outstanding investigators were selected in the first year of the program from a very competitive group of 36 applications. The six investigators met in Boston during the 2012 PAS Meeting with their national mentors and will continue to interact with them at future PAS meetings and quarterly "coaching calls" for the next three years. We encourage junior pediatric faculty to investigate this program in more detail at our APS-SPR website.

Finally, I would like to note that the SPR has officially joined FASEB in 2012 after the recommendation of the Advocacy Committee of the SPR. Representatives from FASEB gave a detail report on FASEB activities to the SPR council including their robust advocacy efforts to sustain federal funding for biomedical research.

We hope this newsletter continues to be a forum to communicate the activities of the SPR to achieve our mission of promoting pediatric research and fostering the careers of pediatric physician-scientists.

Sincerely,
David A. Ingram M.D.
---
Message from the Secretary/Treasurer
SPR Secretary-Treasurer
Thomas P. Shanley, MD
Many of us remain energized by the record-setting Annual PAS Meeting graciously hosted by the wonderful city of Boston.   It was said that the scientific presentations and "hot topics" set the convention center on fire!! (At least that is what the fire alarm system thought).   We hope those of you who attended agree that the breath and depth of the science presented continues to inform our knowledge of and impact our care for the world's children.  All told the meeting drew a record 8,073 attendees with 4,342 abstracts submitted.
Some of the many highlights included an opening session where we were provided a space shuttle ride, interactive poster sessions discussing a record number of abstracts, a glimpse of the future of "personalized medicine" from our Mead Johnson winners: Drs. Scott Armstrong and Nicholas Katsanis, and a chilly, but enjoyable inaugural Run for Pediatric Research along the beautiful Charles River Esplanade.  Other SPR sponsored awards presented at the Presidential Plenary Session included: The Young Investigator Award to Kimberly Stegmaier, MD; The David Nathan Award to Grzegorz Nalepa, MD, PhD; The Maureen Andrew Mentor Award to William Oh, MD; The Douglas K. Richardson Award for Perinatal and Pediatric Healthcare Research to Sten H. Vermund, MD, PhD; and the Thomas A. Hazinski Distinguished Service Award to Ms. Jana Wells who has faithfully served as SPR's Executive Secretary. I would encourage all of you to read the eloquent acceptance speech from Jana who articulated the spirit of service SPR's amazing staff possesses driven by their staunch commitment to helping our members advance the science of pediatrics to have an impact on the outcome of children. Be sure to view all the SPR sponsored awards presented at the Presidential Plenary Session.
Not to rest on our laurels, SPR council and staff are eagerly preparing for next year's meeting to be held in our nation's capital.  As home to the National Institutes of Health, surely this venue will be extremely welcoming to the broad scientific community represented by you, our members.  In addition, as home to the White House and Capital Building, we expect that the meeting will provide an optimal venue for advocating for increased funding opportunities for research and voicing support for federal programs critical to securing a healthy future for children.  As has always been the case, the meeting is only as successful as the science you all bring to it.  We hope that your own research work is progressing successfully so that you will be positioned to submit your work to what we again hope will be a record-breaking abstract submission response. Abstract submissions are from September 4 to November 15, 2012.
As out-going SPR President, Sue Furth, shared, we our staunchly committed to making your membership in the Society for Pediatric Research of high value in the hopes that it significantly promoted your academic career development in pediatric research.
Sincerely
Thomas P. Shanley, M.D.
---
---
2013 Call for Fellows' Section Membership
The Fellows' Section of SPR was formed to introduce fellows to our organization, and will provide them with a variety of resources and educational offerings. The SPR Fellows' Section will serve as a resource for:
Professional and scholarly networking
Helping fellows understand the role of SPR and participate in the organization
Harnessing the skills needed and awareness of the resources available for academic career development
Aide in the transition from fellowship to faculty
Application Deadline: August 31, 2012
Learn more about SPR Fellows Section
---
Programme for Global Paediatric Research ™ Award For Outstanding Contributions to Global Child Health

Presented by The Programme for Global Paediatric Research™,
The Hospital for Sick Children, Toronto

Call for Nominations
Deadline: November 12, 2012, 4 p.m. (EST)
This award honours outstanding research achievements in global child health. We specifically invite nominations of researchers who have conducted their work in developing regions.
The award includes a $10,000 honorarium and travel expenses to attend the May 2013 Pediatric Academic Societies' Meeting in Washington, D.C., where the award will be presented and the award recipient will present a review of his/her work.
Please click here or go to www.globalpaediatricresearch.org to visit the PGPR website for links to the terms of reference and online nomination system.

---
Dr. Gregorz Nalepa to Participate in 2012 European Society for Pediatric Research Fellow Exchange Program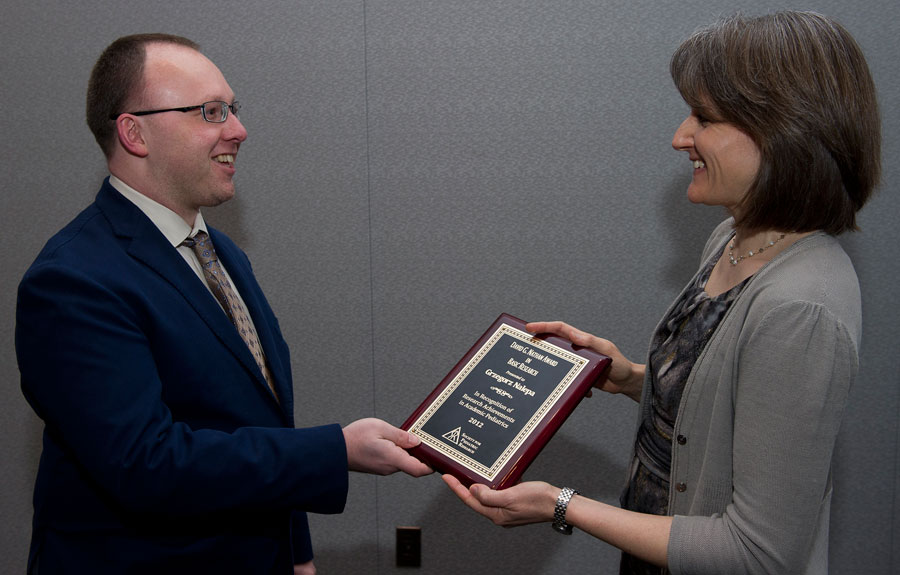 The SPR would like to recognize Dr. Gregorz Nalepa for having been chosen to participate in the 2012 European Society for Pediatric Research Fellow Exchange Program. He was selected in recognition of the award that he has already received from the Society for Pediatric Research based on the quality of the research he submitted to the 2012 PAS Meeting. He will present his abstract "A Hybrid Genome-Kinome High-Throughput Screen Reveals Novel Mitotic Tumor Suppressor Signaling Axis" in October during the 2012 European Academy of Paediatrics Meeting in Istanbul, Turkey.
---
Updates from SPR Strategic Plan Committees
The SPR Committees have been working hard to meet the goals outlined in the SPR Strategic Plan. Learn more about each committees' recent activities and initiatives (.pdf).


---
Regional Societies' Updates
The ESPR, MWSPR and SSPR have provided updates on their activities.
Click here to view the reports