You are receiving this message because you are a member of SPR.
If you no longer wish to receive informational emails from the SPR, please click here from the address you wish removed.

Q u a r t e r l y N e w s l e t t e r
A U G U S T 2 0 1 3
President's Corner
Dear Colleagues,

Engage. Advocate. These are our Society's priorities in the year ahead.

Please join me in extending a warm welcome to our new Officers and Councilors: Brendan Lee (VP), Kate Ackerman (Secretary-Treasurer-elect), Anna Penn (Membership Secretary-elect), Lisa Robinson (Nephrology), and Kimberly Stegmaier (Hematology/Oncology).

With this SPR President letter I would like to encourage you to engage with our Society to "foster the research and career development of investigators engaged in the health and well-being of children and youth". From the strategic plan developed in 2008 under the leadership of SPR President Dr. Elena Fuentes-Afflick, six committees were created to lead the work of the SPR. Please consider joining one of these committees when the call for membership comes out this fall.

SPR President
Steven P. Miller, MD

The Advocacy Committee co-Chaired by John Schreiber and Leona Cuttler, has been leading our child health advocacy through government and public forums. In the current funding climate, this work is essential to our mission. Interfacing with other national societies, in particular FASEB (Federation of American Societies for Experimental Biology), we are engaged in making sure Pediatric Research issues are explicitly advocated for. John Schreiber currently sits on the FASEB Board on our behalf. The Advocacy Committee has also been successful in establishing an award to recognize a national Pediatric Research advocate, further drawing attention to the unique needs of children and the research required to meet these needs in the future. The 2012 award was given to Robert Casey (D-PA). The 2013 award will be announced shortly.

The Communication Committee Co-Chaired by Susan Furth and Thomas Scholz has been actively engaged with SPR office to update the SPR section of our website. This Newsletter is a credit to their efforts.

The Meeting Content Committee co-led with Patricia Denning has been active in working with the Pediatric Academic Societies Program Committee to promote the highest quality Science at the PAS meeting. The PAS Program Committee met this month in Chicago and we have an outstanding program developing for Vancouver in May 2014. On behalf of this committee, I would like to thank our members for bringing forward an outstanding series of proposals.

The Member Engagement Committee Co-chaired by Susan Hintz and Brian Feldman launched a fellows session in 2012 that now has more than 270 members. This committee also led our Constitution Change to increase the age for active membership to 55 from 50. They are increasingly busy reaching out and engaging with subspecialty society and working groups.

The Mentoring Committee Co-chaired by Jake Kushner and Catherine Gordon continues to lead the highly successful student research program. From its inception in 2012, the Young Investigator Coaching Program has been connecting Young Pediatric Faculty to successful Investigators. This "grass-roots" program epitomizes the core strengths of our Society. On behalf of the Council, I want to thank all of the mentors and mentees who have contributed to the success of this new program.

Finally, and importantly, the Philanthropy/Finance Committee Co-Chaired by Tom Shanley and Cliff Bogue has been ensuring that our financial house is in order to sustain our mission.

I offer my sincere thanks to the co-chairs and members of these committees whose efforts have contributed to the tremendous success of our Society. As Council looks towards our Fall meeting, we will be advancing our strategic plan through the leadership of these committees. With a call for new committee members planned for this Fall, I strongly encourage you to join us.

Sincerely,

Steven Miller, M.D.
---
Message from the Secretary/Treasurer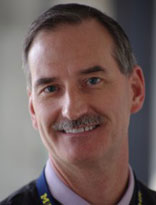 SPR Secretary-Treasurer
Thomas P. Shanley, MD
We hope you are all enjoying your summers as we move through the month of August. It doesn't seem that long ago that we enjoyed a highly successful and informative annual meeting in Washington, D.C. We hope those of you who attended agree that the breadth and depth of the science presented continues to inform our knowledge of and impact our care for the world's children. We knew heading into the meeting that we had a record number of abstracts submitted and folks clearly wanted to digest all that science as we celebrated a new meeting record for attendees. We offer hearty congratulations to our SPR Award Winners including: the Mead Johnson Awards to William Pu and Bradley L. Schlaggar; the Young Investigator Award to Heather Christy Mefford; the David Nathan Award to Sujana s. Gunta; our first ever 'joint' Maureen Andrew Mentor Award to the dynamic duo of Roberta and Phil Ballard; The Douglas K. Richardson Award for Perinatal and Pediatric Healthcare Research to Betty R. Vohr; and the Thomas A. Hazinski Distinguished Service Award to former SPR President, Elena Fuentes-Afflick who was so instrumental to SPR's Strategic Planning Process that established so many of the active resources for our current members. In addition, it was a unique opportunity to have Secretary Kathleen Sebelius from the Department of Health and Human Services speak at the SPR Presidential Plenary. Our Public Policy Council and our affiliation with FASEB continue to provide a strong platform for advocating for increased funding of pediatric research at the federal level. The continued success of the PAS Annual Meeting is crucial to supporting SPR as it provides one of our two principal sources of revenue. Because of the recent success in terms of attendees and improved cost efficiencies of other operational changes, income derived from the meeting has allowed us to hold dues constant for a remarkably long period of time.
Not to rest on our laurels, SPR representatives on the PAS Program Committee and our talented Woodlands staff are eagerly preparing for next year's highly anticipated return to Vancouver, British Columbia for the 2014 PAS Annual Meeting . Those of you who joined us at the Vancouver meeting in 2010 will recall the spectacular convention center amongst the beautiful surroundings. Armed with the advice and suggestions from the members of our Meeting Content Committee chaired by Patricia Denning, your representatives selected four outstanding sessions: (New insights into mast cell biology in pediatric health and disease; The Systems Biology of Complex and Rare Pediatric Diseases; Ciliopathies; Nanotechnology and Organs-on-a-Chip: Emerging Technologies to Study Physiology and Test Therapies in Human Infants). By the end of the day, 17 of our Meeting Content Committee's top 20 recommendations were selected, so you can be certain there will be high quality invited science at the meeting. In addition to this invited science, there is an open call for workshop submissions that will close September 4th. This is an area of the meeting content in which science-based proposals have been few. We strongly encourage you to think about structuring a teaching session in a manner that could be effectively conveyed in a workshop format. Also, for any of you who submitted an invited science session that was not selected, converting it to a workshop format may be a viable option. Lastly, we hope you are encouraging your research teams and peers to be preparing to submit their original science to the meeting as the call for abstract submissions will be right around the corner! Together, this total meeting content will surely combine to comprise another excellent meeting in a spectacular setting.
We continue to strive to make your membership in the Society for Pediatric Research highly valuable and aim to provide resources that have a substantial impact on advancing your academic career development within the pediatric research community. To that end, we greatly appreciate your ongoing participation in the Society and timely return of your annual dues that continue to support this most critical mission. If you have not already paid your dues, you can pay them online or print the invoice at https://www.aps-spr.org/my-aps-spr/ (log-in is required).
Sincerely



Thomas P. Shanley, M.D.
---
~ New ~ Mary Ellen Avery Neonatal Research Award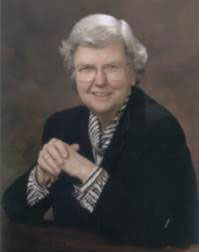 The American Pediatric Society (APS) and the Society for Pediatric Research (SPR) are delighted to announce the Call for Nominations for the Mary Ellen Avery Neonatal Research Award and invite members of the APS/SPR to consider nomination of outstanding candidates. This award was created to honor the memory of the late Dr. Mary Ellen Avery, an outstanding leader in the history of academic pediatrics, and shall recognize the lifetime achievement of a pediatric investigator who has made important contributions to neonatal health through basic or translational research. To be eligible, a nominee must be a pediatrician and must have displayed a sustained record of excellence as a neonatal health investigator.
The inaugural Mary Ellen Avery Neonatal Research Award will be presented during the 2014 Pediatric Academic Societies and Asian Society for Pediatric Research Joint Meeting in Vancouver, Canada (May 3-6). Visit our website at http://www.aps-spr.org/awards/avery/apply.asp for more information and nomination materials. The deadline for nominations is November 14, 2013.
Please consider making nominations and circulate this announcement to your colleagues. This is an excellent opportunity to encourage and recognize individuals for exceptional neonatal health research contributions in pediatrics. If you have questions, please contact the APS/SPR Central Office by email to info@aps-spr.org or by calling 281-419-0052.
If you are interested in honoring the memory of Dr. Avery by contributing to the Dr. Mary Ellen Avery Award Endowment Fund, view how you can make your donation online and read more information about the Avery Award.
---
SPR Call for Awards Nominations – Deadline: November 14, 2013
We encourage you to consider nomination of outstanding candidates to encourage or promote their scientific accomplishments. These awards will be presented during the 2014 Pediatric Academic Societies and Asian Society for Pediatric Research Joint Meeting in Vancouver, Canada May 3-6).
Learn more about the various SPR Awards
---
Call for Volunteers for SPR Awards Committees – Deadline: September 16, 2013
The Society for Pediatric Research seeks representatives to serve a three-year term, starting immediately, on various SPR Award Selection Committees.
Learn more about volunteer opportunities.
---
Save the Date: November 13, 2013
---
REMINDER – SPR Dues Payment deadline is October 15
You should have received your SPR dues statement in July either via email or if we do not have your email on file to your mailing address. Members must be current in their dues to receive member benefits. Be sure you pay by October 15, 2013.
To pay your dues, print an invoice or check to see if your dues have been paid go to https://www.aps-spr.org/my-aps-spr/. Alternately you can contact the SPR Executive Secretary, Jana Wells, at jwells@aps-spr.org or at 281.419.0052.
---
Pediatric Research Publishes Important Review Article on 'Placebo Effects in Children'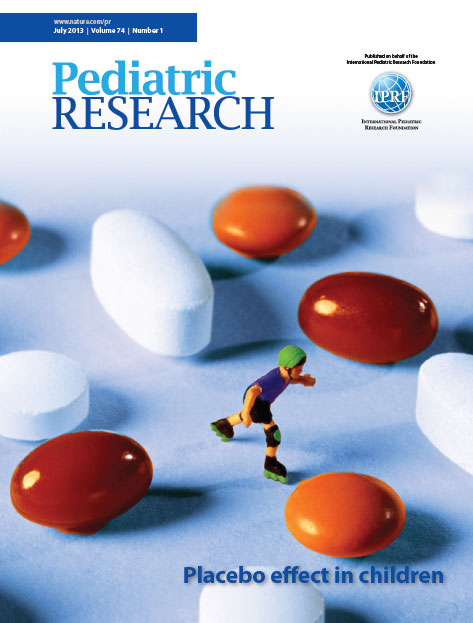 The most recent, July, issue of Pediatric Research delves into the issue of placebo effects in children. Placebo research has gained momentum in recent years with respect to its underlying neurophysiological and psychobiological mechanisms as well as with respect to its clinical relevance in drug trials and clinical routine. However, a number of issues have remained unsolved, among which are the effects of age, gender differences, and the contribution of genetic and psychological profiles. It still is an unsolved puzzle whether placebo responders may be reliably distinguished from placebo nonresponders, and this applies not only to the adult population but also to children and adolescents. In their review article, Weimer et al. discuss four aspects of this phenomenon: (i) the legal and ethical limitations and restrictions for the inclusion of children in clinical trials as well as in experimental (placebo) research; (ii) the question of whether or not the placebo effect is larger in children and adolescents as compared with adults; (iii) whether the mechanisms underlying the placebo effect are similar between children and adults; and (iv) whether mediators and moderators of the placebo effect are comparable between children and adults.
To read the full text of this article, please go to:
http://www.nature.com/pr/journal/v74/n1/pdf/pr201366a.pdf
The full citation for this article is:
Weimer K, Gulewitsch MD, Schlarb A, Schwille-Kiuntke J, Klosterhalfen S, Enck P. Placebo effects in children: a review. Pediatr Res 2013;74:96-102.
---
IPRF International Collaborative Award for Research
The International Pediatric Research Foundation (IPRF) is pleased to announce that there was an overwhelming response to the request for proposals for the International Collaborative Award for Research (ICAR Award). Forty-two applications were received for one award. Fortunately, they were able to allocate funds for a second award this year! The applications will be reviewed soon and two winners will be announced by early October.
---
Student Research Program
The APS/SPR Student Research Program was highlighted in the AAP News.
---
Eastern Society for Pediatric Research
SAVE THE DATE: The 26th annual meeting of the ESPR will be held in Philadelphia, PA from March 21-23, 2014.
https://www.aps-spr.org/ESPR/2013/default.htm
---
Strategic Committee's Report
The SPR Committees have been working hard to meet the goals outlined in the SPR Strategic Plan. Learn more about each committees' recent activities and initiatives (.pdf).

---
Important Dates & Upcoming Events