CLICK HERE for the 2018 Mary Ellen Avery Award
Nomination and Instruction Form

---
The American Pediatric Society and the Society for Pediatric Research are pleased to announce

ALAN H. JOBE, MD, PhD

as the 2017 Mary Ellen Avery Neonatal Research Award Recipient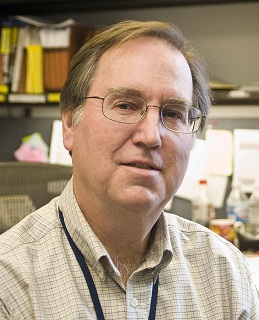 Alan H. Jobe, MD, PhD
Professor of Pediatrics
Division of Pulmonology/Neonatology
Cincinnati Children's Hospital Medical Center
Cincinnati, OH

Alan H. Jobe, MD, PhD is Professor of Pediatrics in the divisions of Neonatology and Pulmonary Biology at Cincinnati Children's Hospital, University of Cincinnati and is a consultant for a Bill and Melinda Gates evaluation of maternal and infant mortality. He has worked for 27 years with NIH and Australian NHMRC funding in Perth, Western Australia and Cincinnati on translational research to understand fetal lung maturation, fetal inflammation, and the risks of Bronchopulmonary Dysplasia. His research interests are in surfactant homeostasis, lung injury and Bronchopulmonary Dysplasia, fetal inflammation, and lung development.

He graduated Phi Beta Kappa from Stanford University with a degree in Biology in 1967, then completed MD and PhD degrees in 1973 at the University of California, San Diego. He joined the Department of Pediatrics at Harbor-UCLA in 1977 where he became a Professor of Pediatrics at UCLA in 1983 and soon after was nominated to The American Society for Clinical Investigation in 1986. He became Director of the Perinatal Research Laboratories at the Walter P. Martin Research Center at Harbor-UCLA in 1995, where he was named the 1st Joseph W. St. Geme, Jr. Professor of Pediatrics at UCLA in 1995.

Dr. Jobe performed many of the metabolic and physiologic studies that resulted in FDA approval of surfactant for the treatment of Respiratory Distress Syndrome. He was the Director of a P-50 Program Project Grant from NHLBI to study surfactant homeostasis in transgenic animal models at Cincinnati Children's Hospital Medical Center and also participated in two clinical studies funded by NHLBI to evaluate chorioamnionitis and lung outcomes in late-preterm infants (RO1) and to identify biomarkers for Bronchopulmonary Dysplasia (U10). He was Chair of the Steering Committee for the NICHD Neonatal Research Network from 1996 to 2006, and participated in the NIH-Human Embryology and Development Study Section from 1983-1987. A member of the National Advisory Child Health and Human Development Council for NIH from 2003 to 2007, he also served as the Chair of the Steering Committee for the NICHD Global Research Network, and a consultant to Fundassmin, a research foundation in Argentina. He has over 325 peer-reviewed publications and over 185 editorials, chapters, and other publications.

A longtime member of both APS and SPR, Dr. Jobe served as an SPR Council member from 1984 to 1988 and SPR President in 1989, was the Secretary/Treasurer of the American Pediatric Society from 2003-2009, and was an editor for Pediatric Research from 1984 to 1988 as well as J. Pediatrics from 1997 to 2016. He organized training seminars for young pediatric faculty in Estonia, Poland, and Hungary for the SPR, APS, and ESPR in 1991 and 1993, and was elected to the Institute of Medicine (National Academy of Medicine) in 2007.

Dr. Jobe has received numerous awards including: the 1984 WSPR Ross Award in Research; the 1986 E Mead Johnson Award for Pediatric Research; the 2002 Finnish Pediatric Societies Arvo Yippö Medal for Pediatric Research; the 2005 George Simbruner Lecturing Award at New Frontiers in Neonatology in Austria; the 2010 SPR Thomas Hazinski Distinguished Service Award from the SPR in 2010; the 2011 AAP Virginia Apgar Award; the 2012 MSPR Founders Award; and was recognized in 2011 by LA BioMed at Harbor-UCLA Medical Center as a Legend for service to Harbor-UCLA.
Donate to the Dr. Mary Ellen Avery Award Endowment Fund

View Past Recipients

Back to APS Awards Back to SPR Awards